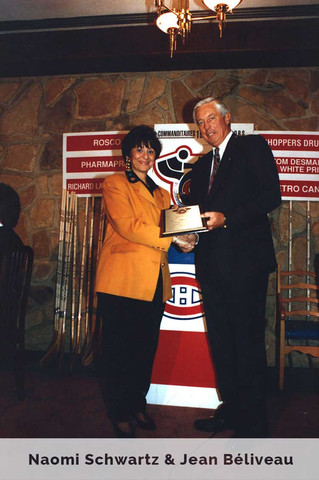 "The Hockey Cultural Program" initially began in 1972 when Jean Beliveau and the late Peter Bronfman contacted Robert (Bob) Beale (founder and Executive Director of the Canada Student Exchange Programs). They wanted to propose to Bob an exchange program that would involve the hockey club "Les Canadiens" that would use the game of hockey to bring young Francophone and Anglophone Quebecois together, to foster friendship and better understanding between them.
Bob Beale, Jean Beliveau, Peter Bronfman and former NHL'er Marcel Bonin created a modus operandi for minor hockey teams in the Atom and Pee-Wee categories to participate in a weekend of cultural awareness. Jean Beliveau suggested that, in light of the objectives of the Program, the competitive aspect of hockey should be eliminated. Therefore, goalies could change sides, coaches could change benches, players would change sweaters, and no score would be tabulated a friendly fun-filled weekend experience could be had by all.
The visiting teams arrived on a Friday afternoon and were received and entertained by the host players and their parents. On Saturday, buses took the teams to the Montreal Forum to watch their hometown NHL heroes and the visiting team practice, take pictures and get autographs. The thrill of a lifetime came next when the kids skated onto the NHL ice for the first time.
As one visiting NHL player who, was at the Forum to play against "Les Canadiens", told a reporter: "You know, the first time I skated on the Forum ice, I was only 8 years old when I participated in Jean Beliveau's HCP. I remember my heart was in my mouth. Imagine me, skating on the same ice as "Rocket Richard", and Jean Beliveau. I looked up at all the Stanley Cup banners hanging from the rafters and right there and then, I realized that my dream was to someday play here as an NHL player, and here I am. You know, sometimes when we're kids, we don't fully realize how lucky we are" – Luc Robitaille.
Naomi Schwartz was honored in 1992 by Jean Beliveau for her 20 years of service as executive secretary for the H.C.P.. Bob Beale asked her if she would be willing to volunteer more of her time to prepare letters for the government, potential sponsors, corporations and foundations, etc. which she gladly accepted to do. Mr. Beale then contacted his long-time friend, Marcel Bonin, to acquire his aid. Marcel answered: "Bob, I'll support you 100% in the undertaking of this project, but if we are to do this, let's do a program which will permit Anglophones outside of Quebec to come and discover how the francophone population lives, and better understand our culture; this would also permit Quebec youth to visit the rest of Canada and participate in a different culture." Bob told Marcel that this was exactly what he and the Board of Directors were aiming for. From this, the pilot-project was born, based on the fact that even though Canadians have different opinions and views on politics, religion, or economy, we all share he same love for our national sport: hockey.
The money raised from Danny's Memorial Golf Tournament went to defray the cost of the first pilot-project. This project brought teams from P.E.I., Toronto, Ottawa, Quebec City and Montreal together. The results were overwhelming, as witnessed on TSN, RDS and Dick Irvin's Hockey Magazine.
The Board of Directors, encouraged by the successful results of the pilot- project, gave the green light for the HCP staff to organize and establish a permanent Program. They could now raise money for the necessary operating costs and expansion as well as acquire moral support for the HCP from the main hockey bodies.
Letters were sent to the NHLPA requesting their support for the Program. The association gave their approval and cooperation and authorized the NHL players to be of service to the Program. 
Bob Beale, Joe Mell, (Chairman of the new board of directors), Mike Quinn, (a member of the board) and Gerry Patterson, (a volunteer marketing consultant), met with the Federal Government's department of Canadian Heritage requesting a grant in the amount of $100,000. The negotiations concluded with a first time grant of $10,000. Beale, Mell and Quinn then met with Pharmaprix and Chrysler Canada which resulted in a donation of $10,000 from each company. Beale and Mell also met with a Foundation that was very impressed with the HCP's success and modus operandi and, therefore, donated $90,000 to successfully launch the Program on a national scale.
The tree planting project immerged from the fact that over one million trees are cut down each year to make five million hockey sticks (according to Statistics Canada). The aim was to acquire the support and cooperation of all Canadian based NHL teams and they responded favourably in support of our Program.
The founder – Bob Beale passed away in 2000. From that time on the Executive Secretary Naomi Schwartz continued Mr. Beal's passion for exchanges and took over his title as Executive Director. Along with her staff she expanded the program from sports groups to other school groups with an average of 650 participants per year that travelled throughout Canada.

Are Your Ready to Join Us?
We can assist in finding other interested groups, co-ordinate and pay for travel between the different provinces, also may be able to provide some financial assistance to facilitate the exchange.